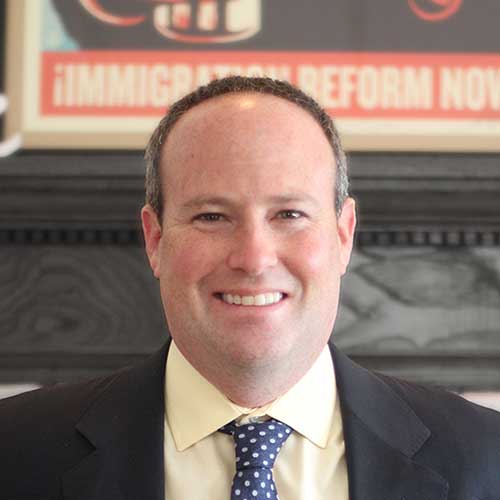 Attorney Adam Solow has extensive experience with family-based immigration and naturalization cases, non-immigrant visas, consular processing, deportation defense, and appellate work. Mr. Solow obtained his J.D. from Villanova Law School in 2006. During his time at Villanova, he participated in the Clinic for Asylum Refugee and Emigrant Services Clinic (CARES).  Before co-founding SHG Immigration with Matthew Hartnett and Christina Galvan, Mr. Solow was a founding partner of Solow & Isbell, LLC in 2008, and later the managing partner of Solow, Isbell & Palladino, LLC.  
A tireless advocate for his clients, he is also the former Chairman of the Philadelphia Chapter of the American Immigration Lawyers Association (AILA).  He is fluent in Spanish, Italian, and is working hard to improve his French and Portuguese.  
Education:  University of Pennsylvania, B.A. (cum laude), 2001
Villanova Law School, J.D., 2006
Admissions:  Pennsylvania Supreme Court
Eastern District of Pennsylvania
Third Circuit Court of Appeals
My Immigrant Story
I am descended from Eastern European Jewish refugees who fled persecution and discrimination at the turn of the 20th Century.  My grandparents were first generation Americans who fought against Fascism in World War II.  My wife is from Venezuela and her family also fled the current political and humanitarian disaster in that country.  As the descendent of persecuted immigrants, married to someone who also came to America to make a better life for herself and her family, I am deeply and personally aware of the injustices of our current immigration system and work tirelessly on behalf of my clients and their families.  I see the hopes and dreams of my children, wife, friends, and ancestors in the face of every client that we represent, and zealously work to help them begin their American story.  
How to Contact Adam
Adam can be reached at 856-240-1621 or 215-564-1990 or [email protected]
Reach out today

Contact us!
Please contact us with the form below to contact the attorneys at SHG Immigration Law about your immigration objectives. If it's an emergency please call us directly instead of using the contact form.