Thomas
M. Griffin
Partner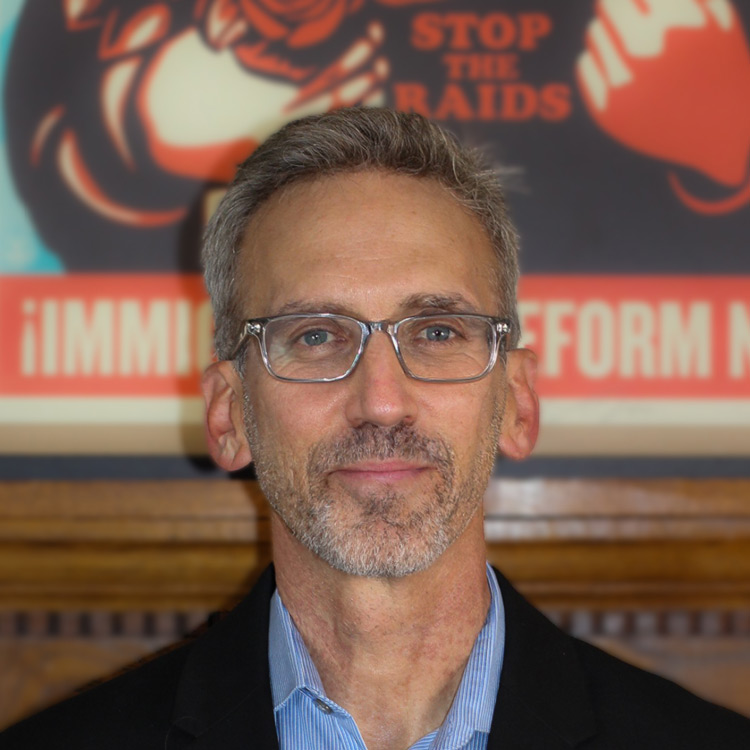 Attorney Thomas Griffin has been practicing immigration law for over 20 years.  He has a special focus on the complex and challenging situations that non-citizens encounter in obtaining the benefits they deserve, and in litigating to defend his clients. He fights tirelessly for his clients against their deportation — whether they be detained, stuck at the border, or living in the community with their families –in the Immigration Courts throughout the country, and before the Board of Immigration Appeals, the federal trial courts, and in the U.S. Courts of Appeal. And he loves speaking Spanish and Haitian Creole.
Some of Mr. Griffin's U.S. Court of Appeals precedent decisions include Borrome v. Attorney General (ruling "drugs" under the Food, Drug and Cosmetic Act should not be conflated with "controlled substances" under the Controlled Substances Act, and stopped Mr. Borrome's deportation); Cabeda v. Attorney General (holding that only most intentional and egregious criminal conduct can trigger automatic deportation and allowing Ms. Cabeda a second chance); and Da Silva v. Attorney General (establishing a new pro-immigrant, pro-women, victim-centered definition of bad acts by non-citizens that are caused by an abusive spouse, and getting Ms. Da Silva her green card). 
In 2022, in fact, Mr. Griffin's Dasilva decision was adopted as official policy by the Department of Homeland Security in evaluating green card applications, and defenses against deportation, under the Violence Against Women Act for spouses trapped in cruel and abusive marriages by their vulnerable immigration status. 2022 USCIS Press Release on Da Silva forgiveness provision for victims of abuse  Da Silva Expansion of VAWA Forgiveness Provision. 
Mr. Griffin believes in pro bono service to the most needy. For over a decade he has volunteered bi-monthly at the Irish Diaspora Center  (which serves all nationalities) and his most recent pro bono commitment is in representing wrongfully-convicted non-citizens in conjunction with the attorneys at the Pennsylvania Innocence Project. 
Mr. Griffin also has a deep interest in international human rights, has been a human rights law professor, and has led human rights investigations in Haiti and Mexico, and has been an official election observer in El Salvador. He has given testimony and made presentations on human rights and humanitarian conditions in Haiti before the Congressional Black Caucus, Canadian Parliament, the National Security Agency, and through various television and radio outlets.
Georgetown University, A.B. (Sociology/Spanish)
John Jay College of Criminal Justice (CUNY), M.A. (Forensic Psychology) (summa cum laude)
Suffolk University Law School, J.D. (magna cum laude) 
Admissions:
Massachusetts Supreme Judicial Court
Eastern District of Pennsylvania 
U.S. District Court, District of Massachusetts
U.S. Court of Appeals for the First Circuit
U.S. Court of Appeals for the Second Circuit
U.S. Court of Appeals for the Third Circuit
Awards:
PAIR Project — Pro Bono Attorney of the Year
Sisters of St. Joseph Commitment to Immigrants Award
Matthew Baxter Attorney Mentor of the Year Award
Department of Justice Public Service Award
Saint Ignatius Award, Outstanding Alumnus, Boston College High School
My Immigration Story:
My mother is 100% Italian, the granddaughter of immigrants from Italy, and my father is mostly Irish, with some Polish, and I carry his Irish name, Griffin.  I think I inherited my love of people and cooking from my mom. From my dad, I think I learned to question — and speak up against -authority, especially the self-important and hypocritical kinds.  My mother's people immigrated in about 1900 from the Southern Italian towns of Sessa Arunca in the Province of Caserta, and from Saracena, in Calabria. My grandfather, Albert, who was my best friend as a young boy, worked his way up at Sealtest Dairy from shoveling cow manure to being a Sealtest ice cream salesman. During school vacations, I'd sometimes accompany him to Jewish delis and Italian markets, and eating plenty of my favorite flavor — vanilla. 
My father's Irish relatives came from Northern Ireland, in the area of Ballymoney, in the mid-1800's, around the time of the Great Hunger, the potato famine. The earliest record we've found in the U.S. is my great-great-great grandfather, Michael Griffin's court-ordered U.S. citizenship award. If you think waiting times are long in today's immigration world, records show that Michael started applying for U.S. citizenship when he was 22 years old, but he did not get his "award" until March 30, 1864, when he was 26!  With women being especially less than equal then, his wife Johanna was included without mention by name in his citizenship grant. Records show Michael supported his family as a "junk man" — selling used items out of a wagon, and another record calls him a "teamster." 
I believe that my love for people, food, new cultures, as well as my solidarity with the working class and fire for the oppressed and voiceless, all come from my immigrant roots.
How to Contact Thomas
Thomas can be reached at 215-925-4435 or [email protected]
SCHEDULE A CONSULTATION
We look forward to assisting you with your special immigration needs. Please use the button below to contact us about your specific needs.
Please contact us utilizing the form below to contact the attorneys at Solow, Hartnett and Galvan Immigration Law about your immigration objectives. We have offices located in Philadelphia, Collingswood, and Chester County. If it's an emergency please call us directly instead of using the contact form.